January 5, 2022
Where to go skiing in Lviv region and in the Carpathians: locations, prices
Those who want to go skiing, snowboarding, snowshoeing and sledding are already waiting for the opening of the winter season at the ski resorts.  Tvoemisto.tv has  prepared a selection of winter resorts. Some of them have already opened, and some will open soon. Some resorts are still working at the prices of last season and are preparing to change them from January.
So where to go to be safe? Trails, ski lifts and ski pass prices.
1. Bukovel
The resort is located in Ivano-Frankivsk region. You can get there by car or train. Thus, JSC "Ukrzaliznytsia" has started the renovation of the station "Tatariv" and wants to rename the station to "Tatariv-Bukovel". In the new schedule for 2021/2022, which begins on December 12, the company launches seven pairs of trains to the ski resort. The total length of the trails is 50 km.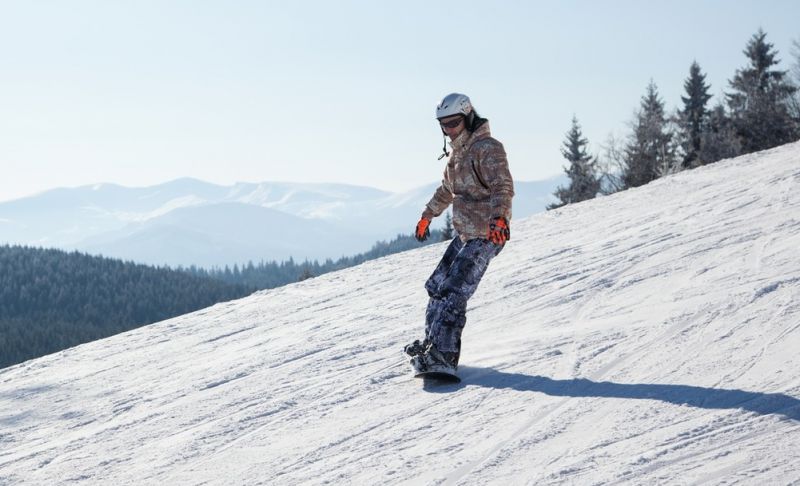 Distance  from Lviv: 231 km.
The ski season in Bukovel starts tomorrow, December 10. In addition to ski slopes, there are toboggan runs and a variety of winter activities.
Cost : ski-pass costs 625 UAH / day, 2 days - 1250 UAH, 3 days - 1750 UAH and so on. Prices will rise slightly in the high season, which will begin here on December 17. Then the cost of one day will start from 829 UAH.
2. Zahar Berkut
The ski slopes are served by a chairlift (the longest in Ukraine) and three ski lifts. There is also a system of ski slopes and a multi-lift for children and beginners. The total length of the trails is 9 km. Zakhar Berkut Tourist Complex is located in the village of Volosyanka, 6 km from the village of Slavske in the Lviv Region.
Distance  from Lviv: 145 km.
The ski season at Zahar Berkut starts on Saturday, December 11. There will be a chairlift and two ski lifts, to which tourists will be lifted by snowmobiles.
Prices  for Ski-pass from Monday to Friday per day (from 9:00 to 16:30) start from 800 UAH, and on Saturdays, Sundays and holidays - from 900 UAH per day. Children up to 1.2 m accompanied by parents - free of charge.
The chairlift lifts visitors until 16:00, then it works only on the descent.
3. Dragobrat
Dragobrat is the only high-altitude ski resort for winter sports and summer recreation in Ukraine, located at an altitude of 1,400-1,700 m above sea level, on the Svydovets ridge of the Carpathian Mountains in the Transcarpathian region (Rakhiv district). Tracks in Dragobrat are designed for both professionals and beginners.
Ski lifts  - from 200 to 1500 m, there are tow, chairlift, multilift (training).
Distance  from Lviv: 254 km.
Prices  for ski-pass for tourists living on "Dragobrat" start from 50 UAH for lifting for adults and 25 UAH for children. For those who do not live there - from 60 UAH for one lift for adults and 30 UAH for children.
4. Play
Ski resort "Play" is located near the village of Plavie in the south of Lviv region (route Kyiv-Chop), at the foot of the mountain massif Play, at an altitude of 600 meters above sea level.
The longest lift  has a length of 1200 m, the height difference is 260 m.
Distance from Lviv : 140 km.
There are ski trails for both experienced skiers and beginners: three red trails (intermediate), two blue (easy) and black at the top of the mountain (difficult).
However, the opening of the ski season has not yet taken place.
One  tow lift  from Monday to Friday this year will cost UAH 90, a chair lift - UAH 110. On weekends, the price will increase by about 10 UAH. A half-day season ticket (from 9:00 to 13:00 or from 13:00 to 17:00) costs UAH 480 on weekdays and UAH 550 on weekends. For the whole day - UAH 880 and 1,000. For 2 days - UAH 1,500 and 1,850. 5-day season ticket - UAH 3,350 and UAH 4,600.
Ski equipment rental  for adults costs UAH 250 per set on weekdays and UAH 300 on weekends. It will be necessary to leave a deposit of UAH 8,000. A set of equipment for children will cost 150 and 200 UAH, respectively, the deposit - 5 thousand UAH. Skis, boots, helmets can be taken separately.
An hour with an  instructor costs about a thousand hryvnias.
You can see if the snowy slopes are available at the  link
5. Trostyan
Today, December 11, the ski season started in Trostyan. See how much snow on the slope you can follow the  link.  On the slopes of Mount Trostyan (1235 m) there are trails for professionals (six - international level) and there are several ski lifts and one chairlift. This resort is also near the village of Slavske.
Distance from Lviv : 147 km
This season the chairlift (2,750 m, 22 minutes one way) costs UAH 300 + card deposit UAH 50. The price of a day pass for all Trostyan lifts is from 700 to 850 hryvnias - cheaper on weekdays and more expensive on weekends.
Season ticket - from 2000 to 2500 UAH. There is a discount for anti-terrorist operation participants.
A one-time (without equipment) review  ticket costs UAH 250 for an adult and UAH 150 for children.
Children up to 1.2 m accompanied by adults - free. The "Children's" season ticket is designed for children under 12 years old.
6. Pylypets
In Pylypets in the Zakarpattia region there are more than 20 kilometers of ski trails. In the vicinity of Pylypets, outside the ski slopes, you can go cross-country skiing, provided that there is enough snow.
Trails here are of varying difficulty - steep, gentle, flat, hilly. Some are designed for professionals, others - for ordinary fans of skiing and "teapots". Classification of routes - easy, medium, difficult.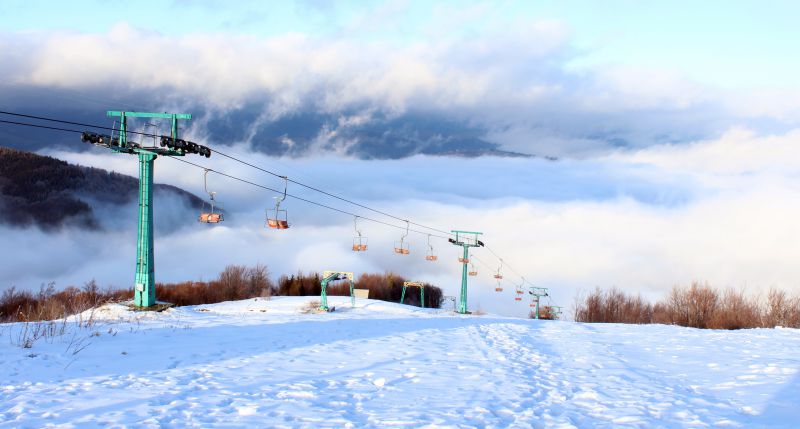 The resort is located  190 km from Lviv .
A 15-minute ascent by a  chairlift  1,650 m long costs UAH 70. Excursion ticket up and down after January 14 will cost 120 UAH.
Toboggan lift  with a length of 1,500 m "Borzhavski Polonyny" costs 50-60 UAH. The 600 m long ski lift starts from UAH 30 per lift, and the 400 m long ski lift starts from UAH 30 per lift.
7. Bukovytsia
In the town of Boryslav in the Lviv region there is a wonderful ski resort "Bukovytsia".
Distance from Lviv : 98 km.
The total length of the descent on "Bukovytsia" (the name of the resort comes from the mountain of the same name) is about a kilometer. For beginners and children there is another, gentler descent.
There are two tow lifts.
A one-time tour ticket for a  chair lift  costs UAH 100 on weekdays and UAH 120 on weekends. The price of a single ticket for the  ski  lift  is UAH 40 and UAH 50, respectively. Daily abrement costs 550 and 600 UAH. Half a day - 330 and 360 UAH. For 5 days you will have to pay from UAH 2,250.
Ski and equipment rental  starts from UAH 200 per set. You have to pay from UAH 100 for the skis themselves, ski boots from UAH 120, and poles from UAH 40.
8.  
Maidan
Over  30 km from the city , near the village of Maidan near Zhovkva (tracts at the intersection of Independence and the jury of the Yavoriv National Park), located tourist and recreation base "Magic Lake", offering chair lift and ski trail length of 680 m.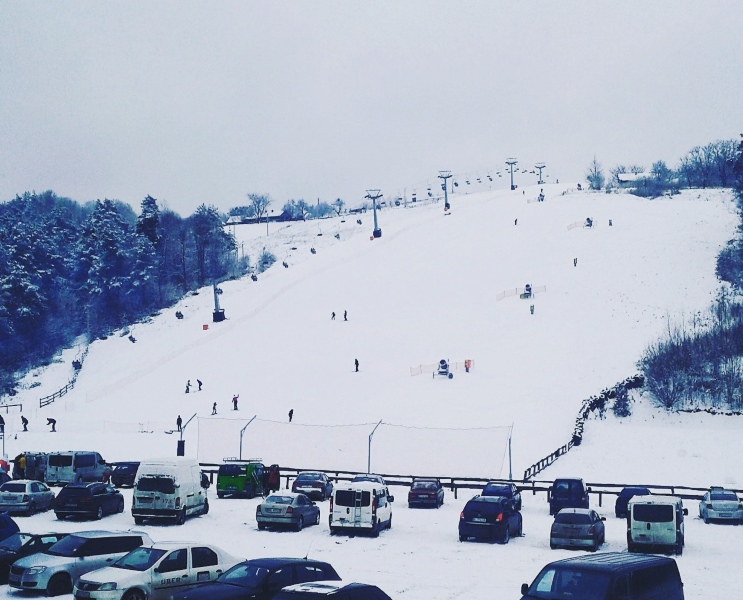 The ski lift is open daily from 10:00 to 17:00.
One lift on a ski lift  costs UAH 80 on weekdays and UAH 100 on weekends. For 3 hours 450 hryvnias rule here, on weekends and in the high season the price will be 550 hryvnias. At the same time, the deposit on the card is UAH 50. Daily subscription - 650 UAH on weekdays, and on weekends - 750 UAH.
Equipment rental  will cost from UAH 200.
An hour with an  instructor  costs 550 hryvnias.
Source: https://lviv1256.com/