The traditional International Theatrical Festival "Golden Lion – 2021" will take place in Lviv from October 1 to 8. This year the festival will be staged, however, several special events are planned in the program.
"Golden Lion" is one of the most prestigious theatrical forums in Ukraine. Theaters from Poland, Hungary, Italy, Greece, Iran, Canada and Ukraine will be presented in Lviv.
This year, the Golden Lion will take place at the following locations: Voskresinnia Theater, First Theater, Lesya Theater, Zankovetskaya Theater, Center Dvorshche.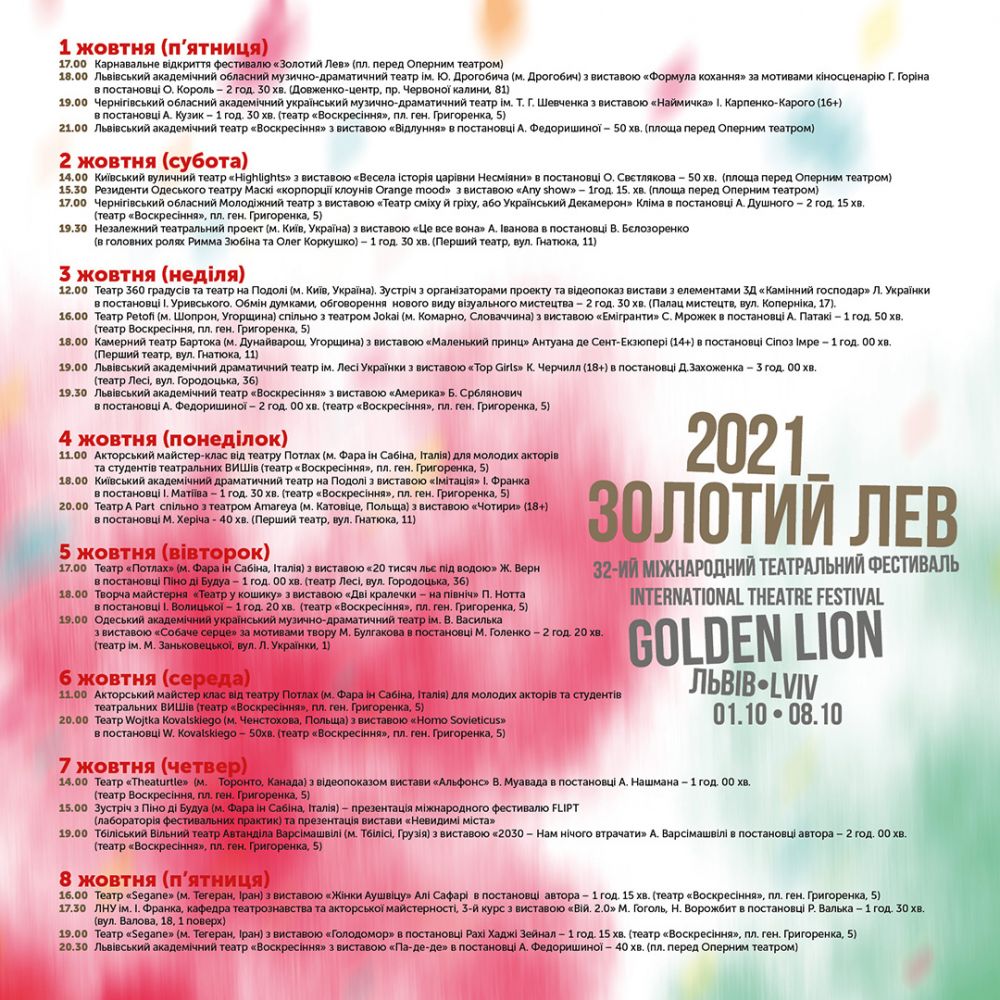 Wednesday highlights of the festival:
The A-Part Theater is well-known in Europe in co-production with the Amareya Theater (Katowice, Poland) with the play "Four" staged by Herich.

The Potlach Theater (Fara in Sabina, Italy) will present productions of "20,000 pounds under water" by J. Verne. This performance was and remains recognized at various international theater festivals in many countries around the world.

The last premiere of the Tbilisi Free Theater, Avtandil Varsimashvili, is a comedy "2030 – We Have Nothing to Lose".

S. Mrozek's unique project "Emigrants" will be presented by Petofi Theater (Sopron, Hungary) together with the theater (Komarno, Slovakia). The actors play in a kind of "cage".

Bands from Chernihiv, Odessa, Kyiv, Drohobych, and Lviv will be represented at the festival among Ukrainian theaters.
Takozh nA festyvali byde kilka videopokaziv vystav stvorenyh za dopomohoyu 3D, obmin dymkamy, kyltyrnym dosvidom dosvidom poyednannya teatralnoho ta ta mystetstva tsyfrovyh tehnolohiy chto za ostanniy year came in chasy pandemiyi.
Source:  https://lviv1256.com/